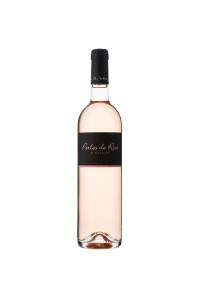 Vin de pays des Coteaux du Libron
10° – 12°
Beautiful 'petal-of-rose' colour, pale with purple shades, a brilliant "blush".
On the nose, dominating notes of fresh red fruit (strawberries, raspberries) and marsh-mallow.
On the palate, nervy, very expressive. Fresh, crispy, well balanced.
Technical features
The grape juice is directly selected after picking thanks to a double-bottom inside the bins right after picking and directly poured into vats. The juice is poured into the tanks protected with carbonic gas and stabilised at 8 ° during 24 hours to get the pulp precipitated and clarified. Racking. Fermentation with addition of especially selected yeasts for their aromatic qualities, during 40 days, in stainless steel vats, at a low temperature.
This rosé wine is a blend of Cinsault, Pinot Noir, with a touch of Merlot, with changing proportions according to the vintage and… the winemaker's mood… During the fermentation, the different juices are regularly added into the blend as the different varieties are harvested.
Maturing for 6 months in closed tanks, on fine lees, then racking, fining and bottling.
Alcohol content : 12,5 %.
Serving advice
Always keep your bottles laying, in a dark and fresh place (between 10 to 15°C). Let your wine stand a few days, after buying it.
Very nice served with melon and ham, grilled meat, sweet and sour dishes. Best served chilled, at 10°C.