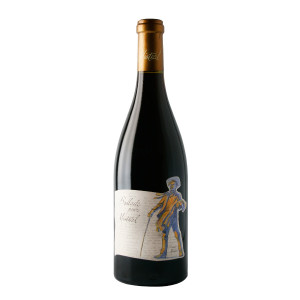 Red Wine
Vin de pays d'oc
16° – 17°
Beautiful dark red colour, very deep and brilliant.
On the nose intense notes of very ripe small red fruit (blackcurrant, heart cherry).
A beautiful balance, on the palate, rich and full-bodied, dense, with tight and elegant tannins. Cheerful and flavoured attack, very fruity, with hints of coffee, chocolate, a nice spicy length (liquorice, vanilla). Elegant wine, with a strong ageing potential. Nice classic and expressive wine, in a Rhone Valley style.
Cette cuvée originale rend hommage au poète méridional Frédéric Mistral (Prix Nobel de Littérature) qui, au XIXème siècle a dédié un très long poème à la gloire des vins du Domaine de Bachellery dont il était un fervent amateur. Ballade pour Mistral, issu des gestes et techniques vigneronnes ancestrales du Languedoc, a reçu pour le millésime 2000 la Médaille d'Or du concours CNCP 2002 ainsi que le prix des Vinalies 2002.
This original wine is a tribute to the Southern French poet Frédéric Mistral (Nobel Price of Literature) who, in the 19th century, dedicated a very long poem glorifying Bachellery's wines. "Ballade pour Mistral" is the fruit of centuries-old traditions of vine growing and wine making in Languedoc. The 2000 vintage was awarded Gold medal of the national 2002 CNCP contest and 2002 Vinalies prize.
Technical features
Blend made from different varieties such as Syrah, Mourvèdre, Merlot, Pinot Noir, Grenache, Carignan).
In vineyard, all year long, the works were manually carried out : pruning, disbudding, thinning out of leaves, green fruit cutting for the youngest vines. Manual harvest in two times, visually selecting the grapes so as to eliminate those which were not ripe or sound enough.
The whole grapes were brought into the vats without any mechanical action, for a 25-day fermentation. Pressing was partly made with a manual press, after racking by hand.
Then the wines were poured into new French oak barrels (content of 300 to 500 litres). Ageing of at least 12 months. After racking, we put them in other barrels for a second ageing of 10 months.
Egg-white fining. No filtration.
Alc. content 14 % by vol.
Serving advice
Please always keep your bottles laying down, in a fresh and dark place (10° to 15°). This special "cuvée" requires a special care : open the bottle a good while before tasting (3 hours if possible) and poured into a decanter.Best served cool (more or less 18).
Elegant wine, with a strong ageing potential.
Perfect served with red meat, game, lamb, meat pies, sausages…
Concours
Vintage 2000 :  Gold medal Concours National des Vignerons Indépendants 2002 – Prix des Vinalies au Concours des Vinalies Nationales 2002.
Vintage 2001 : elected FEMINALISE 2008 at Beaune.